Joe Sorensen
Biography
JOE SORENSEN is by profession an inventor, holder of a few dozen or so patents. His most recognizable is surely the Quick-Grip, a one-hand-operable clamp preferred by woodwork-ers throughout the world. That invention came from an unknown inventor to be named 'Best of What's New' by Popular Science Magazine in 1989. During the tenure of the patents, the Quick-Grip product line grossed nearly a billion dollars in sales.
Born in Sioux City and raised on the other side of the broad Missouri, Sorensen hunted, fished, married and helped raise a family like other Nebraska lads. But then something happened. He left it all behind and moved west, first to the mountains of Montana, then to the shores of California.
Brought finally to his senses by the cold waters of the Pacific, Sorensen decided to become of all things, a writer. His writings are virtually unknown. But – like the clamp – they may well find a following. We shall see.
Books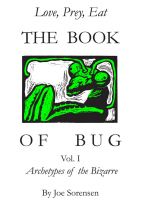 The Book of Bug/Love,Prey,Eat/ Vol.I/ Archetypes of the Bizarre
by

Joe Sorensen
THE BOOK OF BUG, a collection of six brief, compelling essays and six hand-carved linocuts by author/illustrator Joe Sorensen, transports you through text and online video hyperlinks into the bizarre world of insects. For about the price of a café mocha, this extraordinary anthology will gift you with a lasting taste of the utter strangeness of the world's most common denizens.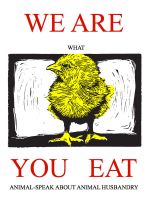 We Are What You Eat: Animal-Speak About Animal Husbandry
by

Joe Sorensen
Are animal products good for us? Do animals that are raised for food suffer on our account? Readers of this delightfully short, 1,375-word e-Book will find answers to these questions. Four provocative essays, along with four hand-carved linocuts by author/illustrator Joe Sorensen, outline the issues. Then, powerful hyperlinks examine the subject -- allowing you to decide what's best for you.
Joe Sorensen's tag cloud