Jack Zaluka
Biography
Jack Zaluka is a writer living in the Midwest. He's traveled widely--Europe, South America, Mexico, Canada, and all fifty states in the USA. His work so far has been mostly non-fiction, but after a long and successful career in academia, he's picked up a number of fiction manuscripts developed over the years and is bringing them to publication. He does most of his research simply by watching TV (including the ads), going to the movies, and reading widely, always with the question in mind: What are Americans really buying? The answer is pretty simple: crime, sex, and violence, all in various combinations. Zaluka's admittedly lofty, and perhaps unattainable, goal is to deal with this subject matter in a highly intellectual way, addressing questions of interest to humanity while telling a reasonably good story.
Books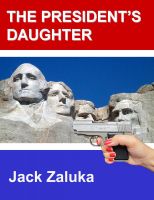 The President's Daughter
by

Jack Zaluka
The president's daughter, Millennium Tyler, born shortly after 9/11, is about to discover what happens when an impulsive decision about college ends up dragging others along on a grand adventure. The others include her Secret Service protectors, bumbling international terrorists, a drug kingpin, a religious fanatic, two of her classmates, and a South Dakota farm kid. Nobody emerges unscathed.
Jack Zaluka's tag cloud