Jack Mangan
Biography
Jack Mangan is known by us (and those in the Deadpan community) as The Iron Man of Podcasting. Since 2005, Jack has been podcasting Jack Mangan's Deadpan Podcast, a variety show that is heavy on the variety. He was also part of the podiobook vanguard on Podiobooks.com with Spherical Tomi: A Novel of Despair, a cyberpunk samurai's tale. Jack's short fiction has appeared in audio and in print in collections like The Amityville House of Pancakes and Podthology: The Pod Complex.

This is Jack's first steampunk work.
Books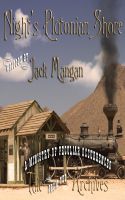 Night's Plutonian Shore
A short story by Jack Mangan In 1849 when a poet is murdered in the streets of Baltimore. The man behind the seemingly random murder manages to elude the law until — in 1889 — Agents Bruce Campbell and Brandon Hill track him down. The assassin, Mikael Scharnusser, gives the slip to the agents on revealing his "talent" and the madman's intentions to bring down the House of Usher.
Jack Mangan's tag cloud