Jennifer Martin, Psy.D
Biography
I have been working in the mental health field since 2001 and have worked with a wide range of clients, including those experiencing depression, anxiety, trauma, grief and loss, chronic pain and domestic violence. Currently, I specialize in treating those individuals suffering from gastrointestinal diseases, chronic illness, and chronic pain. My passion for this specialty began when I was diagnosed with ulcerative colitis that subsequently required four surgeries. I experienced first-hand the psychological difficulties associated with having a chronic illness. My focus is to help my clients learn how to cope effectively with the difficulties they are experiencing so that they are able to live happier, more successful lives.
Where to find Jennifer Martin, Psy.D online
Books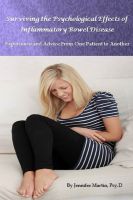 Surviving the Psychological Effects of Inflammatory Bowel Disease: Experience and Advice From One Patient to Another
by

Jennifer Martin, Psy.D
Inflammatory bowel disease is an illness that affects patients in many ways, both physically and psychologically. Often times, patients have a difficult time dealing with everything that comes along with their diagnosis. This book is intended to help patients cope with the psychological effects that often accompany a diagnosis of Crohn's disease or ulcerative colitis.
Jennifer Martin, Psy.D's tag cloud