J Michael Gonzalez
Biography
I've spent nearly two decades in high tech, working for a variety of organizations at all stages of growth and as an independent consultant. I've had an interest in writing since I was old enough to put pen to paper, but recently decided to make the jump off the proverbial cliff and switch to writing full time. I've mostly worked in tech, but along the way, I've studied a variety of martial arts including Latosa Escrima, Wing Tsun, and Tae Kwon Do as well as dabbling a teeny bit with combat handgunnery. I've lived in the back country of the American Southwest, hiking, climbing, whitewater canoeing, and caving. I've even competed in a ballroom competition or two.
Where to find J Michael Gonzalez online
Series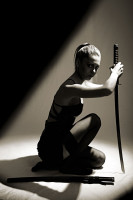 The Half Moon Chronicles
by

J Michael Gonzalez
Nicolette Cooper returns to her childhood home, Half Moon Bay, seeking to start over, and perhaps rekindle her relationship with her lost love, Daniel Hayes. During their rocky second courtship, they are drafted into a shadowy supernatural war, forced to choose sides in order to protect the people of Half Moon Bay. Gifted with powers they don't fully understand, they race against the clock to master them before their enemies realize how vulnerable they really are. Events set into motion decades before they were born are about to come to a head, threatening everything to sweep away everything they hold dear.
Books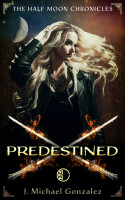 Half Moon Chronicles: Predestined
by

J Michael Gonzalez
Daniel and Nicolette must face their own demons as they are hunted by monsters invading Half Moon Bay from the Hidden World. Caught in a whirlwind of danger and violence, they must master their power or face the destruction of everything they care about!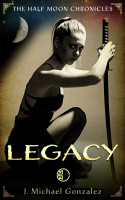 Half Moon Chronicles: Legacy
by

J Michael Gonzalez
Nicolette Cooper returns to Half Moon Bay seven years after running away from her abusive family home to discover that her high school sweetheart, Daniel Hayes, still lives in the area. As their romance rekindles, they are visited by a powerful spirit which grants them abilities and responsibilities - and a limited window of time to learn to use those abilities to avert cataclysmic consequences.
J Michael Gonzalez's tag cloud