Jean Michaux
Biography
I've been a hired pen for most of my life, writing for the government, corporations and, more to my heart's content, satire columns for regional newspapers. I reside in the Midwest with my husband who is not only tolerant of my creative endeavors, but supportive.
Where to find Jean Michaux online
Books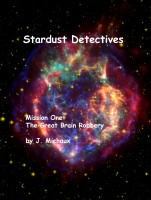 Stardust Detectives Mission One: The Great Brain Robbery
by

Jean Michaux
Similar in tone to Hitchhikers' Guide To The Galaxy, Stardust Detectives is best described as Dr. Who meets The Simpsons. President Davenport's brain is stolen during an annual medical procedure. Every governmental official is deputized to help find his brain, including intergalactic prison inspector Zero Mumford. Their hunt for this and other stolen brains takes them across galaxies and time.
Jean Michaux's tag cloud