J M S Macfarlane
Biography
Thank you for your interest in my books. I hope you find them, not only entertaining but also informative or even educational. I hope you discover something new and interesting in them. I write from experience and what I observe around me. Everything I describe is fiction but if you visit London or south-east England, many of the places I refer to are there to explore. I write about people or things which interact with 'the law'. Law enforcement can be quite different from what students imagine or what everyone sees on television or at the cinema. The reality is far less glamorous and often absurd. It can test what you're made of, how good you think you are, how much you can endure, what you can achieve of true worth. My style of fiction is new and different - about a world which is mostly hidden from public view but which exists around us. Criminals, courts, police, lawyers, judges, directors and companies can be difficult, stressful and at times, wrenching. But they are part of the world which you and I inhabit, each day, as we go about our normal business – confronting disappointments, betrayals, deceit, distrust, disloyalty, jealousy, spite and greed, just as the Roman emperor, Marcus Aurelius did almost two thousand years ago.
Books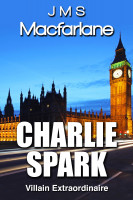 Charlie Spark - Villain Extraordinaire
by

J M S Macfarlane
(2.50)
This book is satirical - the genre is comedy. For a laugh. An ex-copper actually thought it was about real life. Now, that really is funny. It's about professional criminals playing games with the police, the courts and other criminals. It's an excursion in gentlemanly outfoxing, chicanery, double-dealing and one-upmanship in London and the English countryside. Policemen won't be amused.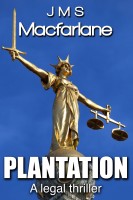 Plantation A Legal Thriller
by

J M S Macfarlane
(5.00)
A fictional but true-to-life, behind-the-scenes account of commercial espionage, criminal fraud, corporate greed and legal chicanery, set against a backdrop of billion-dollar claims, international catastrophes, the highest courts in London and New York, the largest global companies over six continents, the best lawyers and the security services : based on true events
J M S Macfarlane's tag cloud