Brandy Rutledge
Biography
I have always had a creative side,wanting to find its way out. I have many outlets, but writing seems to be my most indulgent. I love how characters can become so engrossing they occupy your subconscious! Taking on the task of my first series was an all at once kind of thing. I had an evolving idea instantaneously that consumed so much space it screamed for a format that would allow for its growth. Since starting the Crystal Children series, I have plotted out many more ideas that have varying modalities, but keeping their feet firmly in "fantasy" and spiritualism. In my mundane world, I am a professional psychic and medium, advising hundreds through phone and personal consultations while still being a full time mom to four wonderful kids who are growing way too fast.
Series
Books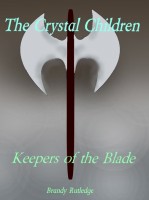 The Crystal Children: Keepers of the Blade
by

Brandy Rutledge
Alisdair must take the reins and keep his part of the crew safe long enough for Rune to return and help them fight of the mythical beasts of the Scottish underworld while looking for a legendary weapon that will not only join Bean and Fane together as new water bearers, but also resurrect the keepers of the spirit crystals, all while trying to evade the evil that threatens to wake an ancient being
The Crystal Children: Keepers of the Well
by

Brandy Rutledge
What do a medium, a master assassin, and a college professor have in common? A thirteen year old runaway girl named Blythe. All of them must work together if they are to fulfill their destinies and save the world from an ancient evil that threatens to destroy it...and take them with it!
Brandy Rutledge's tag cloud