Joan Ramirez
Biography
Joan Ramirez is a published author of "Howie the Frog" in Hodgepodge Magazine. She is also a freelance journalist and has won an award for an online teenage poetry contest. She has authored articles that have appeared in various magazines. In addition to being a member of and book reviewer for the Society of Children's Book Writers and Illustrators, she is a licensed Special Education/English as a Second Language/Elementary school teacher and college adjunct. She has worked with many students like Jamie (K-12). She has also conducted literacy workshops for school children in Vietnam, South Africa, and Costa Rica—to name a few. Joan holds three Masters: Journalism (Medical, Financial, and Technical), ESL, and Special/Elementary Education.
You may connect with her online at writerjr1044@gmail.com.
Books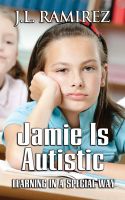 Jamie is Autistic- Learning in a Special Way
by

Joan Ramirez
This book was written as a result of the author's experiences in teaching special education children, all of whom are special, particularly those who are Autistic learners. It is the story of one child's struggles with Autism and how she mastered a new way to learn with the help of parents and teachers.
Joan Ramirez's tag cloud