Joanna George
Biography
Before anything else, I have a strong passion to write. On creative days I crank out paragraphs and pages, hoping desperately to send my words out into the world. Through my words I want to show teenagers that they can be themselves, that they don't need to 'fit in', and most importantly it is okay for them to love themselves. It can be a very difficult world out there and I want to somehow make it easier for teens or at least show them they are not doing the uphill battle by themselves. There are plenty of others with similar feelings and emotions. They are not alone.

I know writing is a business – a business that requires timeliness. I enjoy putting in the time because I treat my times for writing as a gift to myself. The pleasure I evoke from writing is shown in my ability to have numerous articles published in local Melbourne newspapers and a centre-spread in the Fellowship of Australian Writers magazine, my capacity to complete a Certificate in Professional Writing and Editing, my accomplishment at gaining a mentorship with the Australian Society of Authors, and my achievement at finally finishing my first novel, Forty Scrubs.
Books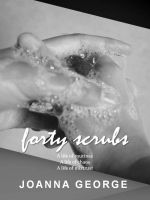 Forty Scrubs
by

Joanna George
(4.75 from 4 reviews)
Forty Scrubs is an intelligent and intense true to life short novel which delves into the world of sixteen year old Keisha Morgan. Keisha is suffering from an obsessive thought disorder. We follow her through the trials and tribulations of her journey to self-discovery while she stumbles upon numerous familial discoveries.
Joanna George's tag cloud