João Nobre de Carvalho
Biography
João Nobre de Carvalho, nasceu em Gôa, em 1940, onde viveu grande parte da infância e teve o primeiro contacto com as religiões orientais, despertando para o estudo dos assuntos esotéricos, iniciado mais tarde.

Depois de cursar o Colégio Militar assentou praça no Exército, transitando para a Armada, onde cumpriu uma carreira muito diversificada, incluindo vários comandos de mar, tendo atingido o posto de Contra-Almirante.

Muito viajado, serviu no Continente, na Região Autónoma dos Açores, na Guiné, em Angola, em Macau e no Mar do Norte, tendo cursado em 1990, em Londres, o Royal College of Defense Studies, onde a sua tese "Maritime Security and the Role of Portugal" mereceu um prémio.

Depois de passar à situação de reserva, trabalhou sete anos na área da segurança da informação.

É membro, eleito, do Conselho Deontológico da Associação de Oficiais das Forças Armadas, pertence a uma associação de carácter teosófico e dedica-se também à pintura a óleo sobre tela, tendo participado em diversas exposições colectivas.

Casado, tem dois filhos e três netos.

Outras obras do autor: "Contra Ventos e Marés", 2006, Editora Livros Oriente, "O Átomo Persa", em 2007 e "A Laranja Maculada", em 2009, estes dois últimos da Editora Prefácio.
Books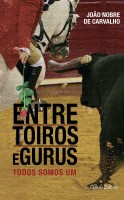 Entre Toiros e Gurus
by

João Nobre de Carvalho
Três religiosos rezam pela evolução da humanidade, em diferentes localidades da Índia: um lama tibetano, no seu mosteiro; um iogue, num ashram e uma teósofa, na sede da sua organização.
João Nobre de Carvalho's tag cloud