Jodie Lynn Sampson
Biography
Jodie Lynn Sampson has been writing for many years. Music and Writing have both been her passion. In 2008, Jodie combined her love of music and writing and wrote Wishing On An Irish Star! There are a few other projects in the works, including another International Romance! Jodie also writes Paranormal Romance, Horror, and she is in the process of writing an International Children's Series!
Books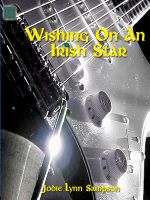 Wishing On An Irish Star
by

Jodie Lynn Sampson
The UK Influence is the most popular British Rock and Roll band. Alyssa is a single parent, and has a daughter. Alyssa loves the band and their music! Most of all, she loves Kian Quinn, The UK Influence's guitar player. Chance brings them together! Were they ready to fall in love? Was Kian Quinn really Prince Charming in disguise?. If you Wish On An Irish Star, sometimes dreams can come true!
Jodie Lynn Sampson's tag cloud