Lardin Press
Publisher info
Joe Cron's life of professional creative endeavors has spanned thirty-five years of writing, acting, and music. He has performed on the piano in all types of bands, combos, and orchestras, and on stage in over fifty theatrical productions. Other activities in Joe's past include a stint as a radio disc jockey, writing theatrical projects and corporate newsletter columns, and twenty years of work in quality assurance and quality engineering for avionics and other technical product manufacturers.
Where to find Lardin Press online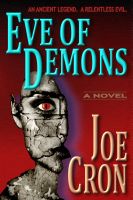 Eve of Demons
by

Joe Cron
(5.00)
After her mother's untimely death, an unseen evil launches Rachel Lake on a spiraling descent into horror. Gruesome murders and freakish possession reveal her mother's heinous, inhuman scheme to populate the world with demons. To save her, anthropologist Jason Caldwell must rely on secrets hidden in an ancient Mayan legend. Can they protect the world from an endless horde of terrifying creatures?
Lardin Press' tag cloud