Joseph J. Cor
Biography
Joseph Cor is a mechanical engineer with an extensive background in research and development. He holds a Ph.D. in mechanical engineering from the University of Colorado. He also served for eight years as an officer in the US Air Force. Among his favorite fiction authors are the "big three" of science fiction, Clarke, Heinlein and Asimov; Taylor Caldwell; Jane Austin; Irving Stone; and F. Scott Fitzgerald. Among his favorite religious authors are C. S. Lewis and G. K. Chesterton. His favorite historical writers include Shelby Foote and Bruce Catton. His first book, available in paperback and on Kindle, is "Love, Faith and Stars", two futuristic tales of romance and spirituality. He is a native of Laramie, Wyoming. He and his wife now make their home in central Pennsylvania.
Smashwords Interview
Books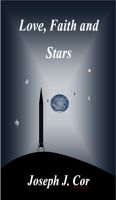 Love, Faith and Stars
by

Joseph J. Cor
This book contains two short science fiction stories. One is set on a distant world and tells the story of a young girl whose life is transformed by a visit of a stranger from the stars. The other tells the story of two Martian explorers, deeply antagonistic, who stumble across the greatest discovery in human history. Each man's interpretation of events differs radically from the other's.
Joseph J. Cor's tag cloud