Joe Sharpe
Biography
Southern Californian Joe Sharpe is a retired police officer, former on-air-talent (fancy name for a radio D.J.), and licensed private investigator. As a reader, while it is very important to him that an author has done sufficient research on the topics they are writing about, he doesn't feel anything can quite take the place of real life experience. He believes there is no true substitute for having "been there, done that", and that is exactly what he offers his readers; a real life, "been there, done that" look into the world of law enforcement, as well as into how and why things happen inside a jail.

Years ago, author David Morrell told Joe that a good novel should inform, educate, and entertain. He said if it does that, then the writer has done his or her job.

It is Joe's most sincere hope, that he has done his job.
Books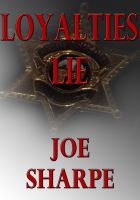 Loyalties Lie
by

Joe Sharpe
What if a retired cop decides to write a book about his career in law enforcement and, in doing so, lets it all hang out? What if he tells the truth about the good as well as the bad? Retired cop Jack Bishop does this, and finds himself caught up in the whirlwind of a seemingly endless nightmare. Could all of this really be happening because of the book he wrote? Maybe… Maybe not…
Joe Sharpe's tag cloud