Joe Terry
Biography
Joe Terry is the author of two self published novels: The Curse of the USS Annie Oakley (Published 2014) and a stand alone sequel, The Undoing of Luke O'Reilly (Published 2014).

Authors who have influenced his writing include; American novelists; F. Scott Fitzgerald, Philip Roth, Cormac McCarthy, John O'Hara, Harper Lee, J.D. Salinger and John Steinbeck, Ernest Hemingway; closer to home, George Orwell, James Joyce, D. H. Lawrence, Joseph Conrad, John McGahern and William Trevor; and last but not least, Chinese writers, Han Suyin and Yiyun Li.

Within earshot and view of the Celtic Sea, the second born of a family of ten, Joe came into this World in his parent's farmstead bedroom in the parish of Cloyne, County Cork, Ireland.

A month after the first ever US presidential TV debate in 1960, having purchased a third class one way ticket, Joe boarded the MV Innisfallen at Penrose Quay in Cork City for the nine hours voyage to Fishguard in Wales. He had not seen the TV debate between Kennedy and Nixon. He had yet to set eyes on a TV set.

Coming from rural Ireland, the "bog", even though he had never been in a bog, London was an eye-opener. Not everybody made the sign of the cross passing a Church, not everybody went to Church, Confessions were infrequent, not like Ireland Catholics were expected to confess their sins once a month; and under the threat of a mortal sin at least once a year. Not all men and women living together were husband and wife, as was the case in the parish of his birth. Many lived with other's spouses. Many were divorced, legally separated; no longer bound to remain as a couple for the rest of their lives through sickness and sorrow. Gangsters, knuckledusters, teddy boys, winkle picker shoes and drainpipe trousers were all new to him.

During the next ten years, Joe lived in London, Essex, Middlesex, Shropshire, Wilshire, Gloucester, Norfolk, Isle of Lewis Outer Hebrides and Hong Kong from where he travelled to Borneo and Jahore in Malaysia, Singapore and Vietnam.

Throughout his life Joe has had a keen interest in sport and outdoor activities participation; Gaelic football, hurling, squash, swimming, walking and athletics.
He a winner of Hong Kong Amateur Athletic Association annual open cross-country and 5000 meters track championships. In Hong Kong as mountain rescue volunteer, a particular occurrence had a profound effect on him when having rescued a group of deaf and mute children from a fog covered mountain, the appreciative group, some time later, presented the rescue team with a token award and sang a song of appreciation.

Whilst an emigrant, Joe worked as a bartender, truck delivery assistant, hardware shop assistant, financial investments representative, interiors supplies representative, aerospace systems operator, and heating and ventilation fitter.

Since returning to live In Ireland, and before retiring, he has worked as a ship building pipe fitter, and mostly as a self employed heating plumbing installations contractor; finally as a bathrooms supplies retail outlet proprietor.

Joe who lives in Blarney, County Cork Ireland can be contacted by email: joeterrycork@gmail.com
Books
The Undoing of Luke O'Reilly
by

Joe Terry
The Undoing of Luke O'Reilly highlights the nature of high personal expectations in an obscure society during Ireland's economic Celtic Tiger boom. LUKE O'RIELLY meets and has an affair with a Philippine nurse, causing difficult to deal with complications for him. Over a time, wrestling with his inner motivations and related actions, he is swept away by forces outside of his conscious control.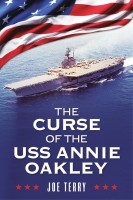 The Curse of the USS Annie Oakley
by

Joe Terry
Price:
$4.95 USD.
Words: 95,330.
Language: English.
Published: December 21, 2014
. Categories:
Fiction
»
Historical
»
General
On learning of the assassination of President John F Kennedy, DANIEL KELLY makes a vow, dedicating his life to combating the purveyors of evil. In time, he joins the Navy and becomes an aviation pilot. During a visit to Hong Kong, he falls for a beautiful singer, CHRISTINA ALZONA. His affair with her sets off a change in his enthusiastic attitude to the Vietnam War, his Country and the Navy.
Joe Terry's tag cloud