John Blackwell
Biography
John lives and writes on a few acres in the Colorado River valley near Columbus, Texas. He is an avid birder, backpacker, and pirogue fisherman. You might also find him in the garden or barbecuing brisket and drinking home brewed beer.

John has a BS in cultural anthropology and an MS in studies of the future and is co-author of the essay Mars Colony included in the high school textbook Moving Along: Far Ahead (Tackling Tomorrow Today) edited by futurist Arthur B. Shostak.

John's family, and especially his grandchildren, are central to his purpose.

He tries, with varying degrees of success, to make every response in his life consistent with his values and in support of his objectives.

Email: John.a.blackwell51@Gmail.com
Books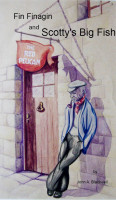 Fin Finagin and Scotty's Big Fish
by

John Blackwell
The Fin Finagin short story series harkens back to a simpler time and recounts the antics of salty old Fin and his friend Scotty as they live and prank and fish in a perfect seaside village. Visit Nellie's cafe and listen to the friendly banter of the Irishman and the Scotsman as they match wits and share stories. A great bed time short for your little ones.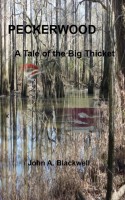 Peckerwood - A Tale of the Big Thicket
by

John Blackwell
Waaaahooooooo!!! Take a ride in Jack's souped up '57 Chevy. With Charlene at his side, scream along the blacktops and fish-tail the gravel roads of the Big Thicket of East Texas. Jack, a birder, is in pursuit of woodpeckers. Ivory bills are hunted and piliateds abound while love comes a knocking and peckerwoods confound. A naturalists delight!
John Blackwell's tag cloud