Dr. John W. Baer
Biography
Dr. John W. Baer, a former Intelligence Research Analyst for the National Security Agency and Professor of Economics at Anne Arundel Community College earned a BA in Sociology from Harvard University, an MBA. from Columbia University, and a DA (Doctorate of Arts) in Economics from Catholic University. Other publications include "Edward Bellamy's Concept of Economic Equality," Revisiting the Legacy of Edward Bellamy, 2002; Tall Tales and Hoaxes of H.L. Mencken, 1990, A History of Woodward, 1977. "Expansion of Economic Education in the Soviet Union," Journal of Economic Education, Spring 1975.
Where to find Dr. John W. Baer online
Books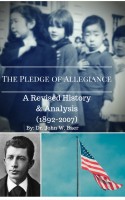 The Pledge of Allegiance: A Revised History and Analysis 1892–2007
by

Dr. John W. Baer
Written by the socialist minister Francis Bellamy, the Pledge of Allegiance was first published in The Youth's Companion National Magazine on September 8, 1892. Dr. Baer delves deep into the circumstances, characters, and controversies surrounding the Pledge, from its inception as part of a public school celebration, its role in a campaign to sell U.S. flags, its Supreme Court case, thru today.
Dr. John W. Baer's tag cloud