John Coyne
Biography
Born in 1937 John Coyne spent his early years in a bewildering variety of intellectual pursuits.
He was one of the original volunteers to take up President Kennedy's challenge and join the Peace Corps. He served in Africa with future Massachusetts Senator (and Presidential Candidate) Paul Tsongas. Later he became the editor both of a magazine devoted to returned volunteers and anthologies of their writings. Besides his own work Coyne published essays and fiction by the likes of Bob Shacochis and Paul Theroux.
He was a college dean and used that experience to author or co-author several books on education.
He loves golf and before turning his attention to horror edited golf books directed at men (by the graduates of the 1971 PGA Tour School); women (by fourteen of the leading LPGA players of the time); and seniors (members of the PGA Senior Tour). Recently he has added two golf-themed mysteries to his bibliography (The Caddie Who Knew Ben Hogan and The Caddie Who Played With Hickory).
The Piercing, 1978 first catapulted John Coyne into the consciousness of the horror cognescenti. Coyne eloquently drove that point home again and again in a series of best sellers in the late 1970s and early 1980s. He took the cultural temperature and addressed the curiosities he found. The Searing, 1980 (ancient astronauts); Hobgoblin, 1981 (role-playing games); The Shroud, 1983 (the Shroud of Turin); The Hunting Season, 1987 (evil hillbillies); The Fury, 1989 (reincarnation); and Child of the Shadows, 1990 (underground dwellers in New York City's subways).
He has also written one of the truly great movie novelizations, The Legacy, 1979. It was a traditional English Country House thriller and became a best-seller.
Books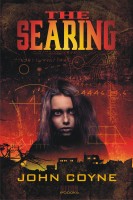 The Searing
by

John Coyne
Her body was out of control...as the blood burst through her body...Another shuddering...And then, just as suddenly, it was over...

As their frequency and ferocity increased, the women of Renaissance Village became terrorized by these inexplicable "attacks." But even as the death toll mounted, who could expect that the key to stopping the assaults would be an 11 year old Autistic girl?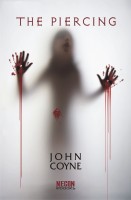 The Piercing
by

John Coyne
Betty Sue is an innocent girl who acts out the agony of Christ once a week. It is haunting and fascinating to millions. The TV says it's a miracle. The Church says it's fake. But this is no charade — from her head, hands, feet and side pours her blood. Witnessing this agonizing phenomenon is Father Stephen Kinsella, a Catholic priest whose faith is already unsteady. Is she divine? Or damned?
John Coyne's tag cloud