John D Callahan
Biography
John Donnelly Callahan was born on May 27, 1955, in Los Angeles, California. His father was an engineer and his mother was a grammar school teacher. He has two sisters, Mary and Terese, 1 and 2 years younger than himself. Mary is a professor of accounting at Kennesaw State University (Northwest Georgia). Terese is a Berkeley graduate, business woman, and mother. Both sisters are married. John grew up and has spent his entire life in Southern California except for living in Northern California while attending U.C. Berkeley from 1975 to 1977. John worked at JPL for about a decade.
Where to find John D Callahan online
Videos
Hovind Debate v. Callahan (theistic evolution): Entire Debate (2004)
In a series of card questions from the audience, creationist Dr. Kent Hovind took the position that the Bible is inerrant and scientifically accurate, contrary to view of public education and the scientific establishment. Theistic evolutionist John D. Callahan contended that the Bible should be viewed as an historic work and weighed against accepted science (the Big Bang and Darwinian biological evolution). Both Hovind and Callahan argued from a scientific and philosophical perspective.
Books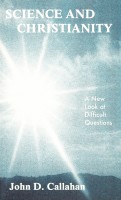 Science and Christianity
by

John D Callahan
This book will give you new insights and surprises as it discusses: Biblical truths and fallacies, the dimensions and contents of the universe, the Big Bang, the great religious leaders of history, the deity of Jesus, the angels, the fall of Satan, the origins of life on Earth (evolution), the probability of life existing elsewhere in the universe, the solution to man's existence, and more!
John D Callahan's tag cloud