Johnny Hart
Biography
I am a Special Ed teacher of middle school grade children in Atlanta, GA. I work with amazing people at Youth Villages' Inner Harbour Campus. Our philosophy, when it comes to educating our children, is to use such crazy methods as: experiential learning, Universal Design for Learning (UDL), and arts integration. Among other things,we have West African Drumming Therapy, which has been just as therapeutic to me as it is for our students.
My first e-book will be published to the world free of charge. "Campfire in the Classroom" will describe an easy approach to embarking on a wonderful path of using storytelling as a means to impart academic content as well as timeless wisdom.
Books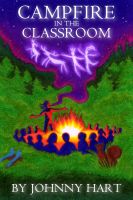 Campfire In The Classroom
by

Johnny Hart
Have you ever wanted to use storytelling as a means to teach academic content? Are you a teacher, mentor or therapist working in a school setting looking for a deeper way to connect with your students' inner self? This ebook will prepare you to take the first step to using storytelling as a means to impart timeless wisdom and keep the principal happy by covering Common Core Performance Standards.
Johnny Hart's tag cloud