John H. Kerr
I played rugby for twenty-two years. At senior level, I played for Loughborough Colleges and English Universities while I was a physical education student in England. After graduation, I played with Irish club Ballymena and was 1st XV Captain 1980-1981. I also taught rugby courses and coached rugby teams for some thirty-five years in England, Ireland, The Netherlands, Japan, Australia and Canada. This included young players of all ages and abilities, as well as top teams and international players. Career-wise, I started out my working life as a secondary school teacher, but after three years moved into higher education as a lecturer in physical education, specialising in sport psychology. I completed a Masters degree and Ph.D. in psychology which led to university positions in The Netherlands and, later, a professorship in Japan. Currently, I am an adjunct professor with the School of Kinesiology at the University of British Columbia in Vancouver. I have published numerous manuscripts in psychology and sport and exercise psychology journals and have written several books: Exercise Dependence (with Lindner & Blaydon 2007); Rethinking Aggression and Violence in Sport (2005); Counselling Athletes: Applying Reversal Theory (2001); Motivation and Emotion in Sport (1997); Understanding Soccer Hooliganism (1994).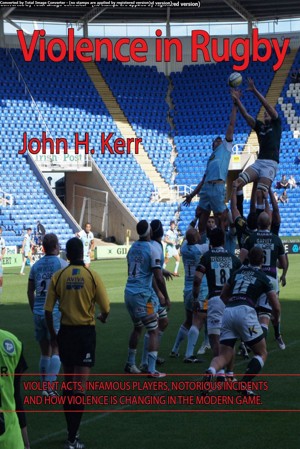 Violence in Rugby
by

John H. Kerr
(5.00 from 1 review)
This book focusses on unsanctioned violence in rugby, and describes rugby's most renowned violent deeds, profiles infamous players and chronicles the most notorious incidents. It examines violence in the past, how rugby violence is changing in the modern game and its relationship with the criminal and civil law. This is the first book to explore violence in rugby in the widest sense.