John H. Manhold
Biography
John H. Manhold is a retired professor, world-wide lecturer and consultant with published texts in medicine, dentistry, and psychology, and a lexicon in four languages. He also served as a science journal editor for J. B. Lippincott. His first novel, El Tigre, received Awards in two categories in the 2008 National Indie Excellence Awards, and in the USA National Best Books of 2008.

He lives in Phoenix, Arizona with his wife, Kit.
Books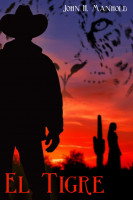 El Tigre
by

John H. Manhold
The life and times of Johann Heinrich von Manfred, a young Prussian who became a Texan, a Californian and then an American in the post-Napoleonic Era.
John H. Manhold's tag cloud