John McKenna
Biography
The identity of John McKenna is of no prominence to me, no doubt just another trivial Earthling. I was probed to write this Bio by a clan friend (another trivial Earthling). I shall instead ponder on the so called author's work - Good Luck Earth, which is recognized to me in its true form - The timeline breach adventures of Flip and Nelson and various cohort, a thesis by my students, Jack and Imperious Flashjack.
It is an utterly hilarious tale specifying the ruinous adventures of two totally unskilled time travellers from your embryonic planet. The fact that they are still alive and didn't extinguish the universe in the progression undeniably startles me. That they are now observed as time travelling legends and have somehow indoctrinated themselves into the day to day affairs of the Colossus Mega Empire furies me.
In my universe the story is fact, but in yours it is fiction. Just how John McKenna got a clasp on the story I am not confident, but it is more or fewer a factual account of proceedings. Good reading and good providence my Earthling friends. From what I can gather your future is in flux. Your so called great leaders are guiding you down an erroneous trail. Perchance by reading Good Luck Earth your eyes will be opened – utopia is within reach.

Salutations

Endearious Novan-Susaiva of the Colossus Mega Empire

Time Guardian of the universe – Grade 5.

If you mess with time the Time Guardians will mess with you!

PS. Your language is most befuddling and gratuitously multifaceted.
Books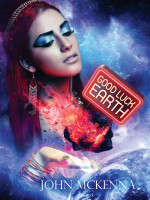 Good Luck Earth
by

John McKenna
A time traveller from the 36th century rescues a man from the late 20th century from certain death and thrusts him into the future. Together they must defeat the Siren, a devious and beautiful time manipulator from an alternative future. She has sent a comet hurtling towards a defenceless Earth. In total defiance of all logic a huge neon sign is attached to the comet - Good Luck Earth.
John McKenna's tag cloud