John Shaffner
Biography
John is a one-time editor and speech writer for the North Carolina Governor's Office and the Office of Public Affairs. He has written three novels and presently resides in North Carolina, but has lived in Colorado for the past twelve years and plans to return there this year. Apart from working on his fourth novel, his latest project is learning the Arapaho language.
While Legacy of Blood is John's first published manuscript he already has additional works in the process of being completed.
Books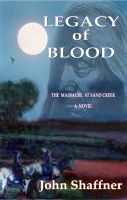 Legacy of Blood: THE MASSACRE AT SAND CREEK, COLORADO
by

John Shaffner
LEGACY OF BLOOD is a novel that follows one family's journey leading up to the massacre at Sand Creek. It is the story of Racer, Lucy Gray Feather, Tall Bear and their father and mother, Spotted Horse and Elizabeth Moon Frost Wellington, herself wasichu. LEGACY OF BLOOD is the story of Native Americans living on the plains during the settlement of the west, with nearly impossible odds of survival.
John Shaffner's tag cloud