John V. Peterson
Biography
Dr. John V. Peterson has been in leadership positions throughout most of his two careers as a practicing Registered Architect and college Campus President. Combining professional experience, scholastic research, and a lifetime of personal growth in Hinduism and Buddhism, he has developed an alternative leadership style based on the secular core values of Hinduism and Buddhism. Besides his Bachelor's degree in architecture, Dr. Peterson has both a Master's degree and PhD in Organization and Management with a Specialization in Leadership. Dr. Peterson firmly believes that an individual's leadership style must align with the individual's core values. The Dharmic Leader provides a foundation for existing and aspiring leaders who are seeking a values-based leadership model that aligns with their Hindu or Buddhist values.
Books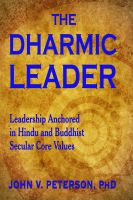 The Dharmic Leader - Leadership Anchored in Hindu and Buddhist Secular Core Values
by

John V. Peterson
This book presents a values-based model that draws on core secular Hindu and Buddhist values adherents have followed for 3000+ years. Section I describes core values and behaviors reflecting the dharmic leadership model. Section II presents a description of the philosophy that provides the foundation for the dharmic leadership model and how it fits into the West in the 21st century.
John V. Peterson's tag cloud