Jo-Marie Claassen
Biography
NP Van Wyk Louw (1906-1970) was a giant of Afrikaans literature. Jo-Marie Claassen saw the first production of his verse drama Germanicus in 1956 while still at school, and again when it was performed at Stellenbosch in 1972. Being from a bilingual family, she was inspired to translate this Afrikaans masterpiece so that the rest of the Anglophone world could enjoy it. This she at last managed almost forty years later, after her retirement from the Department of Ancient Studies at Stellenbosch University. Her translation aims to retain the sweeping grandeur of the original and has tried to remain faithful to both Louw's exhilarating poetic vision and his dramatic portrayal of the corruption inherent in absolute power, a topic still very apposite today. Jo-Marie is the author of two scholarly books and many academic articles, mostly on the Roman poet Ovid, who was exiled by the emperor Augustus about twelve years before the events portrayed in this drama.
Smashwords Interview
Books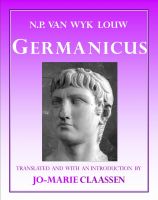 Germanicus
by

Jo-Marie Claassen
(5.00)
This is the first translation into English of the verse drama Germanicus by the Afrikaans poet N.P. Van Wyk Louw. The work was based on the first three chapters of the Annales of the Roman historiographer Tacitus. The drama has been considered a highlight in Afrikaans literature since its publication in 1956.
Jo-Marie Claassen's tag cloud