Jonathan Edwards
Biography
Jonathan Edwards (October 5, 1703 – March 22, 1758) was a Christian minister, preacher and skilled theologian. He was acknowledged to be one of, if not the most important and original of America's philosophical theologians, and is considered one of America's great intellectuals. His theological works are considered to cover a broad range, but he is generally associated with Reformed theology, the metaphysics of theological determinism, and the Puritan heritage. He was considered to be reasonable and grounded in his approach to his life's work on topics of beauty, harmony, life, and ethics. His many writings have survived the test of time and are highly revered today as masterful, and compelling.
Where to find Jonathan Edwards online
Books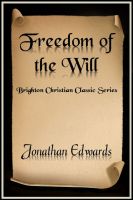 Freedom of the Will
by

Jonathan Edwards
Jonathan Edwards wrote Freedom of the Will in 1754. In this work, he investigates the contrasting Calvinist and Arminian views about free will, God's foreknowledge, determinism, and moral agency. He strives to resolve the disagreement surrounding these topics, using a variety of resources including the Bible and philosophy works of enlightenment thinkers.
Jonathan Edwards' tag cloud