Jonathan Luce
Biography
Jonathan Luce was born in a small Texas town. He was just a month shy of being a dual citizen, after his dad and fully pregnant mom moved from Canada back to the States. His ancestry is French and Scottish.

Being creative is natural for him, because of his love for art, music and writing. He majored in art and minored in theology and music while at college. His search for a career lead him to California where he was able to land a creative position in publishing. He has been involved with Christian inspirational publishing for over eighteen years as an art director.

As a cancer survivor, he is no stranger to emotional and physical challenges. The purpose for his books is that readers would be inspired to see life through the eyes of hope. Whenever possible, he tries to accent his writing with humor.
Books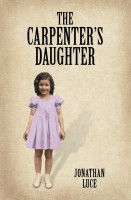 The Carpenter's Daughter
by

Jonathan Luce
This is a heartwarming story about a woman of faith, who has traversed seemingly insurmountable obstacles. By doing so, she has established a heritage of courage that is not easily rivaled in modern times. Faith, Love, and Devotion are the cornerstones of all that we hold dear. Experience for yourself these key elements being lived out in a marvelous and uplifting way in The Carpenter's Daughter.
Why Mercy?
by

Jonathan Luce
Why Mercy approaches the subject of mercy from an unusual perspective. Being devotional in nature, it explores the depths and heights of the compassion of our Creator throughout inspired history. It touches on topics such as: Magnified Mercy, Adoptive Mercy and Harvest of Mercy. For anyone searching for a fresh perspective in relation to God's mercy, this book is for you.
Jonathan Luce's tag cloud