Jonathan Vu
Biography
Dear readers,
I hope you are looking forward to the nest book in this series, seeing as how i can't just leave this one. I am working hard to finish it, but it may be only a short story, giving this book an ending. If you have opinions, please post them in the review column, and please review the book even if you don't have anything to say about the nest book. Thanks!
P.S. the coupon code for this book is KV63M until July 1st
Videos
How Animals Eat Their Food
A guy acting like animals eating food (not).
Brian Regan Stupid in School
This is just plain funny.
East vs. West Bowl Key&Pele
:)
Books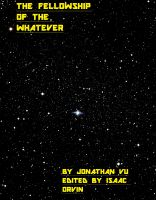 The Fellowship of the Whatever
by

Jonathan Vu
You set the price! Words: 20,590. Language: English. Published: February 10, 2013. Categories:
Fiction
»
Adventure
»
Action
After years on earth, an innocent intergalactic researcher gets caught up in an unexpected adventure. After escaping death multiple times, he finds that his home planet is in danger and returns to save it from an oncoming invasion.
Jonathan Vu's tag cloud