Stella Joseph
Biography
We are registered nurses who have been in this profession for over fifteen years. We honestly have seen it all and at times wish we hadn't. The vast majority of our lives is spent multitasking our careers and raising our children while bringing to light our passion for writing. Through our combined experience, we have worked in the emergency room, intensive care unit, medical surgical floor, transplant unit, home care, corrections, psychiatric, nursing home, and have cared for pediatric patients as well. Our varied clinical experiences give us the impetus to shed a little light on what we do as nurses. The ability to participate in healing and to witness the difference we make in many lives is what drives us. Our shared passion for nursing deepens each day as we join forces with our fellow nurses in com batting emerging diseases with sacrifice and grace.
Books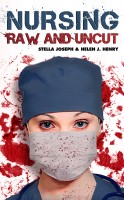 Nursing Raw and Uncut
by

Helen Henry

&

Stella Joseph
Discover Nursing, Raw and Uncut, the untold story that will leave you wanting more. Have you ever wondered what nurses do behind closed curtains? Nursing has evolved from the abstract image of its predecessors wearing the perfect cap atop a perfectly shaped bun. This unveiling will give you a glimpse into their world - from their perspective. What you will discover in this account may shock you.
Stella Joseph's tag cloud