Joyelle
Biography
Joyelle is the pen name for a transgendered woman with a history of being a part-time academic and full-time professional who is married, non-op and lives with her spouse and has two children. She has written professionally most of her working life and only recently has come to fiction and erotic fiction. During her personal journey along the transgender spectrum, from heterosexual crossdressing to gender reassignment, she has been surprised at the suppressive nature in many cases of the parallel sexual identity spectrum, the LGB of LGBT, and the role it plays in the lives of the transgendered. Not that the transgendered are asexual, as they surely are not, but it seems sexual identity is either underemphasized or overemphasized rather than dealt with as an integral part of the personalities of TG life. Through erotica, she hopes to give voice to sexual elements in the many aspects of this lifestyle. She sees erotica as a path to opening that kind of communication but mostly making for interesting and entertaining reading. She will draw on her own experience and those of others transgendered people.
Books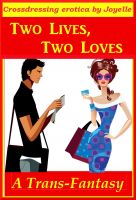 TWO LIVES, TWO LOVES: A crossdresser's tale
by

Joyelle
DOUBLE LIVES: Alex' secret second life as "Lady Ashley" of the tranny nightclub set came to a jarring speed bump. All dolled up and ready to go, wife Katja arrived home found him as Ashley wearing her designer rags – and looking good. But Kat was cool but highly suspicious about who her husband really was, but a new relationship was born and Ashley's gained an added love interest to boot!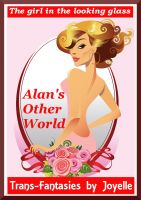 ALAN'S OTHER WORLD: The girl in the looking glass
by

Joyelle
Alan is your basic overachieving high school grad, and the hottest guy in school. But he is also a cross dresser, a secret he has kept from his family and his steady girlfriend, Kylie. An old oval mirror worked magic and made "Alison" real, when she showed up on girlfriend Kylie's doorstep transformed. As events mushroomed, a plan to change Alison back to Alan bloomed, despite second thoughts.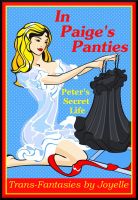 In Paige's Panties: Peter's secret life
by

Joyelle
Price:
$2.99 USD.
Words: 9,510.
Language: English.
Published: May 14, 2012
. Categories:
Fiction
»
Erotica
»
Romance
Peter had a secret from his childhood. It all began with step-sister Paige's panties that changed his life. From that moment, Peter had a strong desire to dress as a girl and it grew stronger over time. It was a secret life that no one knew about until Paige caught him fully dressed as a woman. "Petra" grows into an elegant young woman in an unusual coming of age story with a a twist. A good read.
Joyelle's tag cloud