Joy M Lilley
Biography
As a young mother bringing up a child in the swinging 60's in Kent, Joy was torn many ways, having to earn a living and yet drawn by the bright lights and rapidly changing morals of the time in London and the SE. Although well-educated by her father, who was an English teacher, and her seamstress mother, the family came from humble backgrounds and the harsh realities of a post-war Britain were never far away. At the age of 8, she witnessed a tragic road accident, which sowed the seed for her career in caring to start. Aged 19, with a 2-year-old son, she entered nursing, training at the Royal Victoria Hospital (R.V.H).

She met her first husband whilst completing her training. Sadly, the marriage ended after 15 years. Whilst moving through the ranks at the R.V.H. As the world moved into 70's punk and glam rock, the hospital decided to create an old-fashioned theatre review group to entertain patients and staff alike. Joy stepped perfectly into the role of Artistic Director and started to put on annual performances raising money for the hospital charities – doctors and nurses in drag still brings a laugh today and Joy was not averse to being on stage as well as behind it! It was also here she met as a patient her second husband and inherited an extended family, which today, despite his health scares, has elevated her to a six time grandmother.

Joy went on to spend 50 years in the NHS rising to a senior Trust position in East Kent, overseeing governance to ensure safe patient care and helped to introduce many of the technology and training methods for nurses today. She is a trained pianist, singer and elocutionist with some of her voice-over work helping to sell British products in America. A keen supporter of local art and very well-travelled, particularly in Europe, Joy's writing is a natural extension of her background and creative passion. She currently lives in Kent.
Books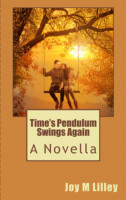 Times Pendulum Swings Again (2nd ed)
by

Joy M Lilley
Jenny is working as a nurse when she meets Seb, a handsome, successful surgical registrar and Jenny is incapable of resisting his charms. They fall in love, buy a flat and move into together, much against Jenny's mother's wishes. Then one day Seb confesses to Jenny that he is already married with two young boys. Can a heartbroken Jenny pick up the pieces of her life?
Joy M Lilley's tag cloud