Justin Podur
Biography
Justin Podur is an Associate Professor at the Faculty of Environmental Studies at York University in Toronto. He is the author of Haiti's New Dictatorship: The Coup, the Earthquake, and the UN Occupation (Pluto Press (UK), Between the Lines (Canada), Palgrave Macmillan (US) 2012) and contributor to Empire's Ally: Canada and the War in Afghanistan (University of Toronto Press 2013). He has also worked as a journalist, reporting from the Democratic Republic of Congo, Haiti, Pakistan, India, Colombia, Venezuela, Israel/Palestine, and Chiapas, for Z Magazine/ZNet and other outlets. His PhD is in forestry, and his scientific research on forest fires and climate change has been published in The International Journal of Wildland Fire, Ecological Modeling, Ecological Applications, and Environmetrics.
Where to find Justin Podur online
Books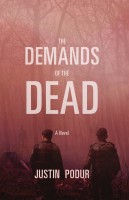 The Demands of the Dead
by

Justin Podur
When two Mexican police are murdered in guerrilla territory in Chiapas, Mexico, a US firm close to the Mexican government is contracted to do an independent investigation. Mark Brown has his own ghosts and his own agenda, and has to work both sides to solve the case, in a place where any mistake could endanger lives - or reignite a war.
Justin Podur's tag cloud