John Rope
Biography
John Rope obtained his first degree in Psychology and Sociology from the University of Hull, England in 1971 and qualified as a Clinical Psychologist from Birmingham University in 1973. He worked in the British National Health Service for twenty four years, latterly as a Consultant Clinical Psychologist. He also ran his own practice in Spain for fifteen years. He is now retired and lives with his wife Barbara in Wiltshire, England, where they devote their time to painting, photography, writing and having fun.
Books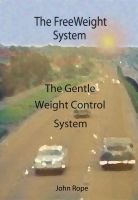 The FreeWeight System
The FreeWeight system uses a new understanding of available research to enable anyone to control their weight permanently. It is not a diet, it is a way of controlling the major cause of obesity; eating excessive amounts of carbohydrates. Written by a Clinical Psychologist. It contains helpful advice in overcoming the major obstacles to weight control such as negative thinking and depression.
John Rope's tag cloud