John Booth
Biography
John R. Booth is a graduate of Oklahoma State University. He has never met Boone Pickens, Barry Sanders, or Garth Brooks, even though they too are graduates of O.S.U. He has worked in both the pharmaceutical industry as a sales representative and trainer and in the mental health field as a social worker. This is the first time he has been published. However, he has written, produced, and performed vocals on three CDs of song parodies. He is a frustrated musician who plays drums, piano, guitar, and ukulele, and although he has not played professionally in more than thirty years, at the age of sixty-two, he continues to hold onto the dream of one day being a rock god.
John is retired and resides in Tulsa, Oklahoma, with his wife Becca. He and Becca love spending time with their grandchildren, Gavin, Will, Ava, Owen, and Lucy, and last summer attended one hundred fifty of their baseball and softball games. He plays golf passionately but poorly, and is an avid fan of Oklahoma State University football and wrestling. Go Pokes!
Books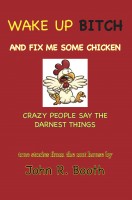 Wake Up Bitch And Fix Me Some Chicken: Crazy People Say The Darnest Things
by

John Booth
When the author worked as a social worker at a state-run mental health hospital, he saw how humorous the patients and staff could be. Some patients were scary and dangerous. Sometimes they would say funny things, and other times they would say things funny. Besides getting a new view of the mentally ill, you'll see why the author believes his patients are some of the most precious people on earth.
John Booth's tag cloud