John Dale
Biography
Dr. John Dale, graduated in medicine from the Royal College of Surgeons in Ireland in 1969 followed by a Diploma in Polar Studies at the University of Cambridge in 1976. This is his third book. He has a commercial/instructors flying licence and 3200 hours of flying in the Canadian north, including the High Arctic. He lives in Nelson, BC with his wife, Diana and two cats and a dog. He is semi-retired from medicine and has retired from flying now.
Books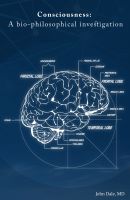 Consciousness:- A Bio-Philosophical Investigation
by

John Dale
This well illustrated book is a philosophical and neurophysiological investigation into the nature and evolution of consciousness. It starts with the animal kingdom and works through to human consciousness. It places human consciousness naturally into the evolutionary theory. This is the author's third book and he is a medical doctor and a philosopher. There is a full theory of consciousness.
John Dale's tag cloud