JR Hager
Biography
I wake, I breath, I smile and thank, "you know Who," I walk the ghost dog, I photo, I video, I write, I edit and smile some more.
Videos
'my' Home [VIDEO] Biz
This wasn't just a nice simple business I can do at home, this was a life saver.
Books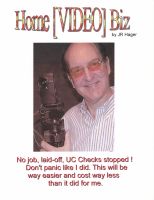 Home [VIDEO] Biz
by

JR Hager
It is with great pleasure that I'm able to bring you my eBook guide, I never thought I was going to make it. My Home Video Biz was a blessing for me. Once I got through that nightmare of being jobless and near homeless, I knew I just had to help others do the same. It's nice to know that it will be easier for you than it was for me, because of this eBook guide.
JR Hager's tag cloud