J Scott
Biography
Comedian, actor, writer, producer, illustrator, and barber. Originally from Linden, New Jersey, J. Scott has been constantly perusing all his talents. His stand up act has been seen in major comedy clubs such as Caroline's on Broadway in NYC, all the way to the Uptown Comedy Club in ATL. His efforts in doing stand up comedy in Atlanta have led him to produce a recent show titled "ATL Late Night Comedy", which features Atlanta's hottest comedians, allowed him to co-write a short film titled "Just Us" and also landed him a feature role in a remake of "Steel Magnolia's". A long time friend of Bob Sumner (talent coordinator of Def Comedy Jam and owner of Laff Mobb), J. Scott has offered his illustration skills to Bob's first book, "Funniest Jokes I've Ever Heard Vol. 1". While using all his God given talents J. Scott also owns and operates in BARBER'S INK., located in Douglasville GA.
Where to find J Scott online
Books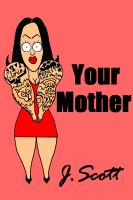 Your Mother
(5.00)
Your Mother contains some of the funniest mother jokes ever with illustrations to go along with it!
J Scott's tag cloud