John Smythe
Biography
Born on the last day of World War Two (15 minutes after his twin brother), John Smythe is a proto-Baby Boomer. As such he has been privileged to live through decades of great (and no so great) social change. Growing up in Wellington, New Zealand, he developed a passion for theatre which saw him tour New Zealand with the New Zealand Players Drama Quartet then head to the National Institute of Dramatic Art NIDA) in Sydney, Australia. In Australia then back in New Zealand he has worked extensively as an actor, playwright, theatre director, screenwriter and theatre critic (he is the founder and managing Editor of www.theatreview.org.nz ). John's non-fiction books include Downstage Upfront: the first 40 years of New Zealand's longest-running professional theatre (Victoria University Press, 2004) and The Plays of Bruce Mason – a survey, (VUP & Playmarket, 2016).
Smashwords Interview
Books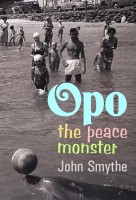 OPO The Peace Monster
by

John Smythe
What if 'Jaws' had been a dolphin? A remote post-war New Zealand community is invaded by a lone dolphin who becomes a huge tourist attraction. Fearless, totally trusting, Opo causes a massive outbreak of harmony. For some she promises economic profit, for others she is a prophet of peace and a few feel threatened … When Opo is killed the locals conspire to cover it up. But her legacy lives on.
John Smythe's tag cloud