Jasmine Shouse
Biography
Jasmine Shouse is a United States Navy veteran. Native to Colorado and raised in Montana she met Ginger Salazar while stationed in Hawaii. In short time, they bonded over their mutual love of video games and writing and began work on what would become Sethi's Song. Jasmine lives with her husband, three sons, and two dogs in San Antonio, TX. She loves reading, solving puzzles, and playing Xbox.
Where to find Jasmine Shouse online
Series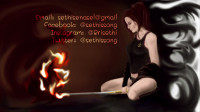 Sethi's Song
by

Jasmine Shouse


&

Ginger Salazar
"For three-thousand years the Resarian Dominion has been at war with us, ensuring we never return to our native land on Sariadne. They continue to practice sorcery and witchcraft against us, melting entire fleets and summoning demons just as their first emperor did at the Dominion's inception. If we continue to fall before them, no one will be able to stop them when they decide to conquer other nations. It's time we ally with the rest of Falajen to throw our deadliest war machines against them. You, my dear, are one of our deadliest war machines. With your help, Pahl'Kiar will prevail." -Kiaran Emperor Vimbultinir Shani.
Books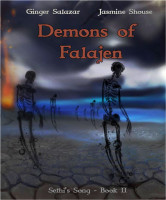 Demons of Falajen
by

Ginger Salazar

&

Jasmine Shouse
An escalating war, a missing Empress, and a devastating family secret. What Brisethi Sen Asel wants more than anything in the world is an end to the war. When she is sent to a nearby country to secure an unprecedented alliance, what she finds will shake her entire world perception.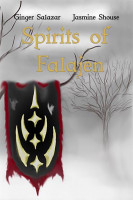 Spirits of Falajen
by

Ginger Salazar

&

Jasmine Shouse
As the Pahl'Kiar Empire advance their forces to reclaim their empire, the Resarians, who have laid claim to Sariadne, push back. A young woman enlists in the Resarian Dominion military to fight for her country, determined to face any and all challenges, even from within.
Jasmine Shouse's tag cloud