Gianna Robbins
Biography
Gianna Robbins lives in California with her family and delightfully hyper and sometimes eerily intelligent West Highland White Terrier, William. Growing up in the science fiction and fantasy community, Gianna found herself exposed to cultures, languages and ideas from all corners of the world, perhaps that's why she has such an odd view of the world around her. Gianna started tinkering with words in her early teens. At first it was just poems, but soon she grew to love the way words could be used to paint the world around her and she started writing stories about other worlds and creatures mythical and real. She writes science fiction, fantasy and romance short stories and novels.
Where to find Gianna Robbins online
Books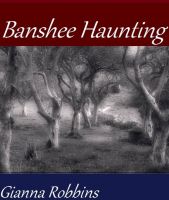 Banshee Haunting
by

Gianna Robbins
A young woman gets far more than she bargained for when she steals the hair of a banshee. She knows only that the hair is said to give the owner a gift, little does she know it's a gift that will change her life forever.
Gianna Robbins' tag cloud