Stephan Painter
Biography
I grew up poor, and then into trouble. I served as a United States Marine on foreign and domestic shores. I worked for the largest Electronics Corporation in the world at the time just to get a lay off slip as my job went to Mexico. I bounced for over ten years from job to job trying to become stable again in a destabilizing economy. I was forced to re-educate myself more than once just to survive, but I did it. I have found that survival ties in with constant education. Some of it is formal, and some of it is not so formal.
I finally found my own common ground working with teen-aged boys that struggle from some of my own personal and similar issues. I also provide my technical skills to a technical college teaching young adults, and some not so young adults how to survive technically in today's workplace. I teach computer information systems and office software applications. I now have over 15 years' experience as a professional counselor, and 12 years' experience as a technical instructor. I have learned to survive and make a living out of struggling. I am professional at struggling… trust me.
Books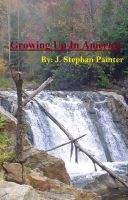 Growing Up In America
by

Stephan Painter
Growing up in America is a blended concept of issues from America's past. It is a philosophical interpretation of mistakes and successes that we have made throughout the years. Examples are life examples of people that we have given the lable hero. They represent situations in their lives that have molded the landscape of our society. In essence it is largely who we are today as a society.
Stephan Painter's tag cloud