Jude Garrison
Biography
Jude Garrison is an American Author who lives in Dothan, Alabama with her husband, Ron. She jokingly refers to her hometown as LA (Lower Alabama, for those not in the know). "But I'm allergic to Alabama," she frequently says. Dothan is the peanut capital of the south and is famous for its annual Peanut Festival. When not writing, Jude and her husband enjoy photographing the wonders of nature and spend as much time as possible in the abundance of parks and nature preserves around the area. Visit the author's website at www.judegarrison.com to see some of the beautiful pictures they have shot.
Where to find Jude Garrison online
Books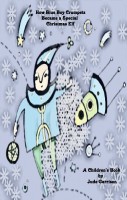 How Blue Boy Crumpets Became a Special Christmas Elf
by

Jude Garrison
Blue Boy Crumpets lives with his family in the land of clouds. No one from the land below can see Blue Boy, but he can see them. He loves watching the children play, and longs to go there. One day, his cousin tells him a secret. "You can go to the land below. I will show you how if you dare to go." Will he take his cousin's dare?
Jude Garrison's tag cloud