H. Sage Morgan
Biography
H. Sage Morgan was raised in Texas and earned undergraduate, graduate, and law degrees from schools there. In 1975, Sage moved to the Intermountain West, where he met R.D. in a cram course for the state bar exam. They married in 1976 and now each is a senior magistrate judge (i.e., mostly retired rent-a-judge).

Sage and R.D. have a rural lifestyle, living on their farm with their golden retriever Sam Houston, where they grow hay and board horses for other people.

They have one son, Earp, now an attorney and married to Katrina, as well as Jack, Gage, Landry...and Rowan who has preceded all of us to Heaven.
Books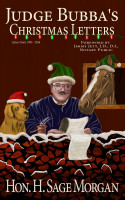 Judge Bubba's Christmas Letters: 1995–Present
by

H. Sage Morgan
Judge Bubba is a semi-retired judge, living on a farm with his wife of 39 years, R.D. His annual Christmas letters chronicle the misadventures and travails of Judge Bubba, his family, friends and associates around his farm and his community. where there is a constant battle with skunks, fish, criminal behavior, bodily dysfunction, errors in judgment, and even hostile cottonwood trees.
H. Sage Morgan's tag cloud