Jules Bass
Biography
Jules Bass has produced several animated films, including The Hobbit, The Last Unicorn, Rudolph the Red-Nosed Reindeer, Frosty the Snowman, as well as several hit animated television shows such as ThunderCats. Jules has written two children's books: Herb, The Vegetarian Dragon and Cooking With Herb, for Barefoot Books. They have been translated into seven languages and reprinted in paperback. Herb received a "Pick Of The Lists" from American Bookseller, Lifeworks Magazine's the "Real Life Award," IRA-CBC "Children's Choices Award", "top-of-the-children's list" at American Book Sellers Association. The London Times called Herb one of the best books of the season. It was short-listed for the Kate Greenaway Award and praised by Paul McCartney as: "A magical read for all new thinkers, young and old…" Herb made his television debut on The Food Network.

Bass' new novel for middle-grade readers from Eltanin Publishing, The Mythomaniacs, takes place in Devon, in the south-west of England, and from there transports the reader into many worlds of fantasy including a quest that leads back to Arthurian times.
Books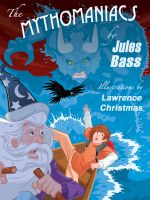 The Mythomaniacs
by

Jules Bass
When a simple trick goes wrong, 15 year-old Gilbert, amateur magician & illustrator of his father's fairy tales, accidentally transforms a group of readers into characters from his books (and himself into the spitting image of the magician Merlin). Struggling to find a way to bring everyone-including himself-back to normal, he embarks upon a wild odyssey through the world of his own fairy tales.
Jules Bass' tag cloud