Julie Hayden
Biography
I developed an early interest in how things work by my father. My mother taught me fairness by saying, "Fairness in all things is paramount--an apparently unacceptable concept in politics [and education]."

The day when liberal and conservative politicians understand and practice respect for each other is the day when government truly works for it's people. And, lastly, it really doesn't hurt that much to think for yourself.
Books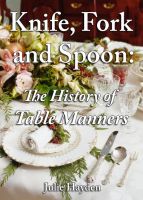 Knife, Fork and Spoon: The History of Table Manners
by

Julie Hayden
Have you ever wondered why you feel so embarrassed when you spill a glass of wine or dribble food down your chin while dining out in public? The shame that accompanies those feelings stems back to the beginning of mankind itself, and how he began to socialize. Table manners evolved from civilized protocols and were meant for people to relax and to enjoy the company of those they chose to be with.
Julie Hayden's tag cloud