Kathy Miner
Biography
Kathy Miner lives in Colorado Springs with her family and her critters. When she isn't writing or "momming," she enjoys reading everything from current scientific research to the Harry Potter series to Shakespeare. She also loves hiking in all kinds of weather, especially when she can bully one of her sweet pups into coming along, and she will try her hand at any kind of hand-craft there is. You can learn more about her and her novels on Facebook at Kathy Miner Books, via email at kathyminerwriter@gmail.com, or on her website at www.authorkathyminer.com.
Where to find Kathy Miner online
Series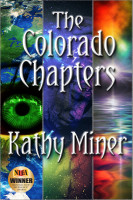 The Colorado Chapters
by

Kathy Miner
The Colorado Chapters is a complete trilogy containing the award-winning What Survives of Us; Where the Light Enters; and The Journey is Our Home. Follow survivors of a deadly plague in the mountains of Colorado. In a world where humanity's evolution has complicated even simple social interactions, underestimating an opponent can have lethal consequences, and understanding yourself can mean the difference between life and death.
Books
Kathy Miner's tag cloud