Shayna Abrams
Biography
In 2006, Shayna Abrams experienced a psychological breakdown that resulted in a permanent change in her life perspective. Up until that point, she was living in Brooklyn, NY, married to her second unemployed husband and running between two jobs in order to take care of her two kids from her first marriage. After her "spiritual epiphany", as she calls it today, she realized that life does not have to be a constant struggle if the good that life has to offer would simply be realized. Since then, Shayna has decided to devote her time trying to spread the message of peace and hope to people everywhere - even in times of desperate economic hardship, military unrest and religious confusion.
Where to find Shayna Abrams online
Books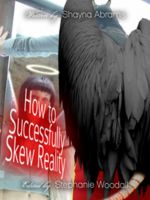 How to Successfully Skew Reality
by

Shayna Abrams
We got it all wrong!!! Life does not have to be a struggle if you know how to skew your perspective successfully. All it takes is a little faith and a lot of patience!
Shayna Abrams' tag cloud