J. W. Wright
Biography
Jason Wright grew up in Boyertown, Pennsylvania, a small town about an hour northwest of Philadelphia. As a child, he loved to run around in the various wooded areas around his house, and it was in those woods that he began to develop his desire to tell stories. He would tell his friends about all of the "scary" things that he saw in the woods. It progressed until he was twelve years old and was taken to his grandparents cabin in Potter County, Pennsylvania. This is where he truly figured out that he wanted to tell scary stories. He had never been in woods quite that deep and everything seemed as if it was going to pop out and scare him. He carried his love of the woods and the unknown into his adult years and joined the United States Navy, where he wrote many stories while on deployment. He used his Post 9/11 GI Bill to attend Full Sail University where he is currently a student working on perfecting his craft of the written word. Jason is the proud father of two wonderful boys named Brendon and Benjamin, and he has a beautiful wife named Jennifer. They currently reside in Panama City, Florida and enjoy the breathtaking view of the world's most beautiful beaches.

You can check out Jason's other story "Twelve-Thirty-Seven" (along with some other fantastic authors) in the anthology book Lost Tales from the Mountain published by Mountain Springs House.

If you would like to know more about Jason, please feel free to send him an email at jwwright767@gmail.com.
Books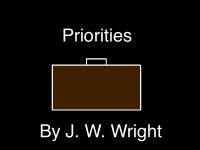 Priorities
by

J. W. Wright
(3.00 from 1 review)
A man realizes that his priorities have changed... for the worse.
J. W. Wright's tag cloud